ENNEAGRAM-TYPERNES MUSIKVALG
ENNEAGRAM-TYPERNES MUSIKVALG
Type 1: Reformatoren
Paul Mcartney; Let it be og Worlds of wisdom
Jessie J., Masterpeice
Fia ,The art of letting go
Julie Andrews, Something good
Linda Eder, Man of la Mancha
Richard Kiley , The impossible dream
Idina Menzel, Let it go.
Type 2: Hjælperen
Garfunkel, Trouble water
Stevie Wonder, Love in need of love
The Cardigans, Lovefool
Whitney Houton, Greatest love of all
Jessie Hock, I love you just the Way you are
Simply red, If you don´t know me by now
Dionne Warwick, That's what friends are for
Type 3: Udretteren
Witney Houston, Greatest love of all
Carey, Hero
Colbie Caillat, Try
Queen, We are the champions
Sia, The greatest
Type 4: Individualisten
M. Jackson, Man in the Mirrow
The greatest showman, This is me
Thomas Helmig, Mit hjerte længes
Billie Holiday, Lady sings the blues
Shelby Lynne, Breatfast in bed
Fia, I feel it all
Jill Scott, He loves me
Paloma Faith, Broken Doll
Paloma Faith, Romance Is Dead
Paloma Faith, Do You Want the Truth or Something Beautiful
Amy Whinehouse, Back to back
Nik Kershaw, Wouldn't it be good
Portishead, Sour times
Portishead, Numb
James Morrison, Wonderful world / Please Don't Stop The Rain / One Last Chance / This boy / Undiscovered / You , Make It Real
Billie Holliday , Lady sings the blues
Julie Marie, Hjerteløv / Min tornerose / Også om dagen / På kanten af virkeligheden / Lidt endnu / De andre / , Den dag blev en kort dag
Joni Mitchell, Both Sides Now
Dounia, So cool
Stine Bramsen, Protypical
Atlas Four, Sleeping at last
Chopin
George Micheal, I can´t make you love me
Sanne Salomonsen; Hjem
Type 5: Udforskeren
John Lennon – How
Robbie Williams, Feel Creep, Radiohead
Robbie Williams, Feel
Funkadelic, Super stupid
Funkadelic, Maggot Brain, Funkadelic
Lacy Boy, Facts of Life
Type 6: Loyalisten
Christine Aguilere, The voice within
Katy Perry, Rise
Josh Rouse, Flight Attendant
Nancy LaMott , Help is on the way
Melissa Etheridge, I need to wake up
Fort Minor, Slip Out the Back
Lisa Lovebrand, Hot'n'Cold
Atlas Six, Sleeping at last
Type 7: Entusiasten/Eventyreren
Bruno Mars, Uptown Funck
Girls just wanna have fun
Queen, Don't stop me now
Beatles, Here comes the sun
Rush, Freak Power
Rolling Stones, You can't always get what you want
Rolling Stones, Satisfaction
Sly and the Family Stone, I want to take you higher
James Brown, I Got You
Queen, I want it all
Bobby McFerrin , Don't worry be happy
Joy, Sleeping at last, Atlas Seven
Sia, Chandelier
Peabo Bryson , A whole new world
Bob Marley, Three little birds
Pharell Williams, Happy
Bobby McFerrin, Don't worry be happy
Always look at the bright side
Type 8: Udfordreren
Gladiator
Gloria Gaynor, I will survice
Frank Dinatra, My Way
Olly Murs, Troublemaker
Cher, Strong enough
Kelly Clarkson, Stronger
Springsteen, Tougher than the rest
Pink, Please don't leave me
John Legend, Stay with you
Type 9: Mægleren/Fredselskeren
Amrstron, What a wonderful world
Bob Marley, Jamming
Pink Floyd, Comfortably numb
Ida Gard, Need a break
Ed Sheeran, I see fire
Bruno Mars, The lazy song
Beatles/ Fiona Apple, Across the universe
Dolly Parton, 9 to 5
Phil Harris, The bare necessities
Natan Lane, Hakuna Matata
Alison Kraus, When you say nothing at all
Stevie Wonder, For once in my life
Suzanne Vega,Luka
Kottonmouth Kings, Bad habits
Sound of silence, Disturbed
We are the world
John Lennon, Imagine, War is over, Happy Christmas
Peter Kater, Snatam Kauer, Heart of the Universe
Mirabai Ceiba, Stars
Og…"Speeping at last" har lavet special designet musik til alle typerne.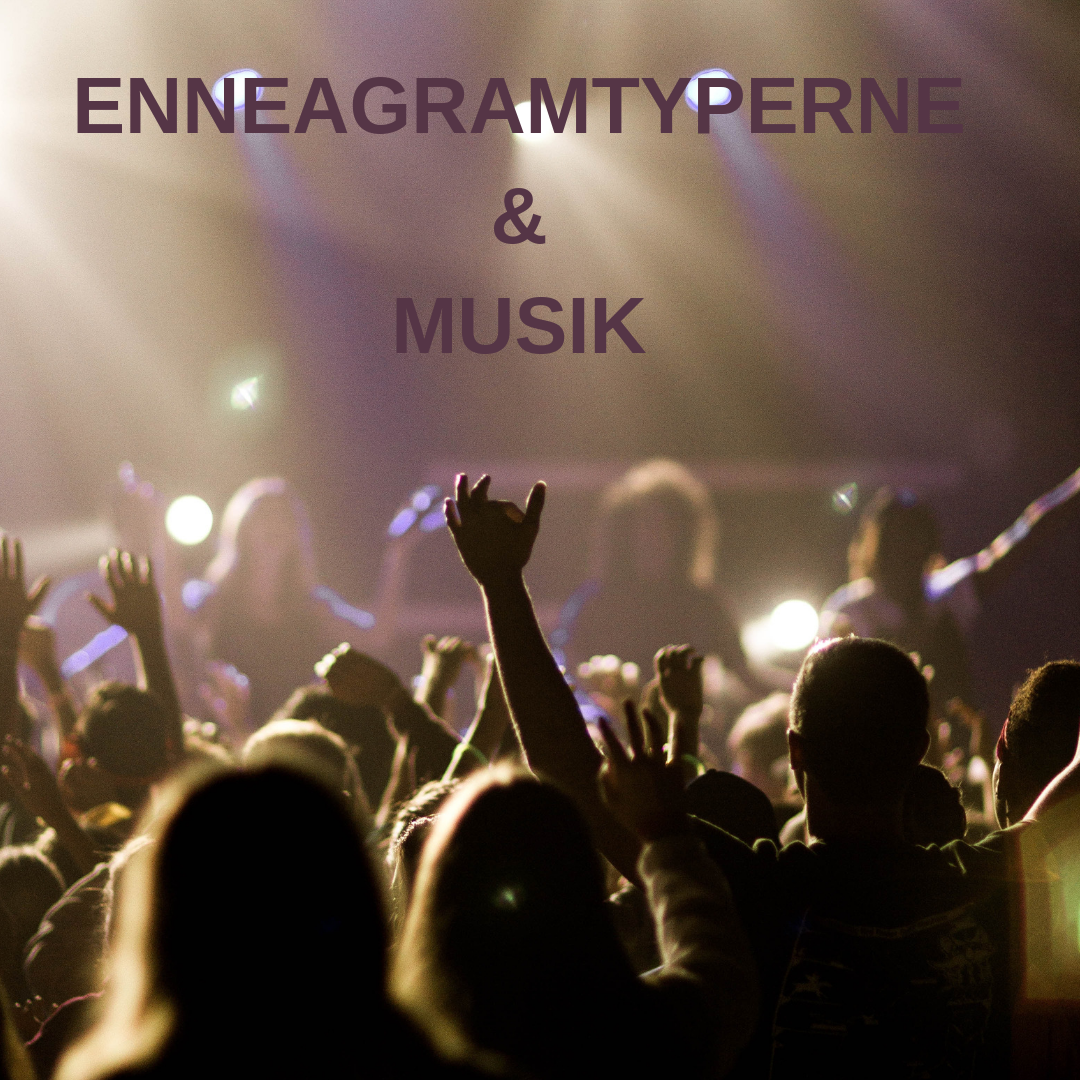 Indiakaj 10
 2100 København Ø.
+45 33 31 10 70
mail@kisserpaludan.dk